VR solutions in training make the whole training process more effective. It provides the possibility to visualize working environment and successfully drill necessary skills that brings value to gas stations. Creating diverse scenarios it is possible to equip the staff with necessary knowledge that will save lives in perilous situations and improving operations.
WHY TO APPLY VR TECHNOLOGIES IN TRAINING
Virtual Reality technology allows to increase employees' engagement, minimize risks and increase efficiency. VR is a powerful tool that provides fully immersive scenarios, visual and sound effects, interaction with specific objects , data integration with the learning system. It is possible to re-create any real-life situation in Virtual Reality including emergency situations.
IMPROVED STAFF TRAINING
Virtual Reality technology significantly improves the way staff training is conducted, especially in jobs that require working in hazardous conditions. Our solution helps employees to understand potential risks of working at the oil refinery site, allowing the end user to experience the potential dangers and their consequences, as well as mitigate the risk. Everything without putting the end user into any sort of danger. Our solutions have helped other leading Oil and Gas companies to improve their employee training effectiveness.
EFFECTIVE KNOWLEDGE RETAINMENT
Based on the conducted survey aimed to compare VR and traditional training effectiveness, it is acknowledged that even both methods provide knowledge though VR can also impart real-life experience by letting users practice their skills as many times as needed. Two different focus groups were formed to measure the effectiveness of Virtual Reality training. Group 1 was introduced to the new learning process, part of which includes Virtual Reality learning and training experience. At the same time, Group 2 was proceeding as usual, accomplishing their training through the previously used traditional training means. Six month later, both groups were given multiple choice quiz, assessing their knowledge gained during the training session. On average, Group 1 scored 75%, while Group scored 46%.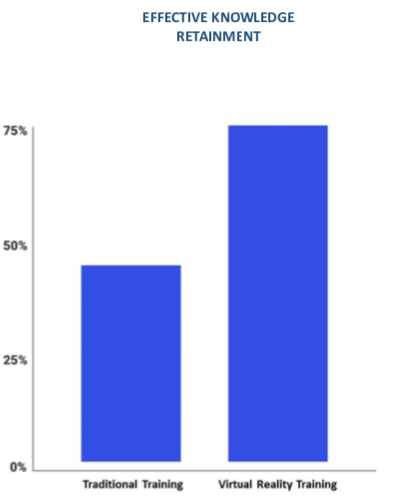 Refinery and Gas Station training now available
VR technology allows us to create a virtual world parallel with the one in the real life. This is very crucial for health and safety training where it is vital to know all the procedures as well as to behave adequately in emergency situations. Simulating a fire at a gas station allows trainers to showcase various situations to enhance future perception of trainees.
In order to handle the emergency situation and minimize fire damage, trainees have to execute the whole set of respective actions on a gas station in Virtual Reality. The solution provides the opportunity to experience the emergency situation, all sound and visual effects add to the immersion into the context. It is possible to interact with necessary objects.